The holiday season has long been a time for decorating. We deck the halls with boughs of holly and hang each stocking by the chimney with care. Lights are strung on each tree branch and a festive ring of pine greets carolers at the door. Take a look at some examples of wreaths that are creative and stylish, each having a sense of unique flair.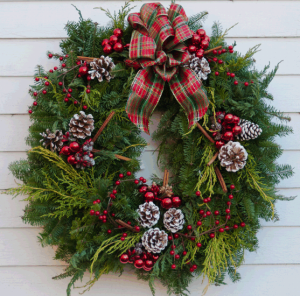 This traditional wreath appears to be somewhat simple. It isn't overly decorated but tasteful. A classic tartan bow compliments red berries and clusters of shiny red millimeter ornaments. Assorted shades of evergreens add subtle contrast and texture. Frosted cones and cinnamon sticks add a natural and seasonal element.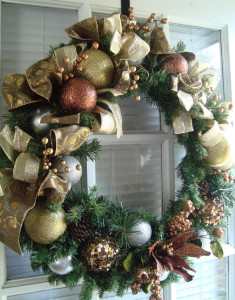 Conversely, this wreath is decorated to the nines with classic Christmas metallics of silver, gold and copper. Ribbons, bows, ornaments and berries are the focus while pine is the accent. Glitter and sparkle bring on festive holiday spirit.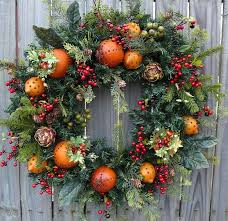 A classic Williamsburg style wreath is decorated with assorted evergreens, berries and dried pods. The focal point of this beauty is the citrus fruit embellished with decorative patterns of clove pins.
Wreaths by Floral Inspirations don't stop at a ring of pine. We embellish and decorate with assorted evergreens and cold weather tolerant berries and foliage. We add glistening ornaments, ribbons and accents of seasonal cones, pods and dried flowers. Most importantly, we customize each wreath to reflect our client's personal style. Click here to contact Floral Inspirations or call 201-675-5946 and we'll create a customized wreath just for you. And remember, after the holidays we can design a permanent wreath to reflect the coming spring season.